You can order books NOW!
​Scholastic Book Clubs is a great way for you to stock your library AND help our classroom get free books! Remember: You can order any books that are on the website--simply do a search. Books are delivered within about a week or so, and they do not charge shipping.
Our class code is H8K67. The red banner below will take you directly to their website.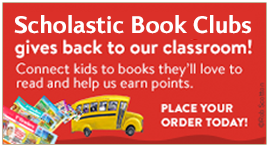 Connect
Email will be my primary way of communicating with parents. I am available during school hours at sjcarpenter@cps.edu.
I also strongly encourage you to connect with the class on Twitter. Our 2nd grade story is told on this platform AND your child will be tweeting! Check us out at
@2ndCougars
.
Twitter!
Six years ago, I was awarded a grant through Illinois Computing Educators for my proposal for using an iPad mini in the classroom. To fulfill my proposal, I have completely handed over our classroom Twitter account (
@2ndCougars
) to the students. A daily "student tweeter" is picked from those who want to participate. They document learning moments throughout the day using the iPad mini. They tweet twice daily. All tweets get my final approval before going live. Everything that is posted is their photos and words--mistakes and all! This is a great way to encourage student voice as well as document important learning.
Please consider supporting us by following, favoriting, retweeting, and maybe even replying! If you are not on Twitter, you can see our tweets towards the top of this webpage. Thank you!
Newer CPS policy
CPS now requires all parent volunteers to be registered as official volunteers through the CPS online online process. This means that all classroom helpers, field trip chaperones, and guest readers will all have to be registered as official CPS volunteers.
Click here
to register and learn more about the process.
What others are saying about @2ndCougars!
Four years ago I had the idea to have students "live tweet" the Great Chicago Fire of 1871 to summarize their learning. WTTW (Chicago's PBS station) did a story on it. Read all about it below!
---
What do people think of 2nd graders sharing on Twitter? Follow
@2ndCougars
on Twitter to find out! We also received a shout-out on the Reflective Teaching Vlog run by
Christine Halliday
of Lancaster, Pennsylvania! The shout-out starts at the 10:14 mark.