Landforms
The landforms research project can be completed on ANY type of landform (not just the 3 listed). Students may also present their findings in any way they would like. This includes (but is not limited to) a video, song, poster, news report, etc. Students MUST include at least 5 facts about their landform in the presentation!

Don't forget: The Scholastic book order deadline is Tuesday the 30th at midnight. The online code is H8K67. Thanks!
Spring updates
Spring is end-of-year testing time! Students will take the MAP Reading assessment on Tuesday, May 30th and the MAP Math assessment on Tuesday, June 6th. Individual reading levels will be assessed using the TRC assessment which is ongoing through the remainder of the month.
Thank you so much for your incredible teacher appreciation gifts! I am grateful to work at such a great school. You make it great! Thank you.
Your student may have mentioned a number of recent tools that we have been using in class. One is the Litterati app. Students have volunteered an occasional 2nd recess to clean up and geo-tag litter on our school grounds. You can learn more here:
Litterati Ted Talk
I demonstrated Google's Auto Draw for students. Learn more here:
AutoDraw
Emoji story starters. Out of ideas for what to write about? Here is a
random emoji generator
to get your creative juices flowing!
​Have a great week!
Report Cards
End of March updates
The 2nd grade showcase is tomorrow from 8:30-9:30am. Parents: Feel free to drop by Room 203 and see what we've been doing with Chicago history. Please note: Our showcase will focus largely on the Great Chicago Fire activity that occurred on Twitter. I did not expect it to gain so much popularity, so I had already planned on showcasing it before it gained so much attention. If you can't make it-or haven't seen it yet- you can check it out below. Here is my interview with WTTW explaining the project:
https://goo.gl/iYbGJq
Here is our #1871Fire Twitter reenactment!
February updates
Reptile show
​This Friday students will get to extend their learning of reptiles in a presentation given by Jim Nesci of Cold Blooded Creatures. I'm sure you will hear all about their experience with viewing snakes, crocodiles, and turtles!

Valentine's Day
We will have a short Valentine's Day activity towards the end of the day on Tuesday the 14th. Students may bring in cards and/or small non-edible treats to share with their classmates. We have 27 students: 14 boys and 13 girls.

Report cards will be sent home on Friday. Please check your child's black folder.
​Thanks!
Scholastic book orders
Scholastic book ordering is now live! Order by clicking the link below. Orders are due 9/25 and are usually delivered to school in 7-10 business days. Our class code is H8K67. Thanks!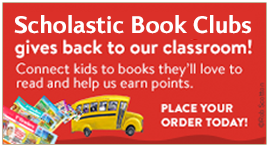 Special classes for the 1st quarter
Here is the schedule of special classes that we have for the 1st quarter:
Monday: Drama or Music
Tuesday: Drama or Music AND Library
Wednesday: Gym AND Spanish
Thursday: Gym AND Spanish
Friday: Art

Please return Library books before or on Tuesday and remember to wear athletic shoes for Gym days. Thanks!
Room 203 - 2nd grade!
Welcome to our 2nd grade classroom website! We have an awesome year of learning ahead of us. I am excited for you to join me in what will be an incredible year. For more engaging and up-to-the-minute classroom happenings, follow our classroom on Twitter
@2ndCougars
.
​Get ready for a great year!
New year, more Twitter!
At the beginning of last school year, I was awarded a grant through Illinois Computing Educators for my proposal for using an iPad mini in the classroom. To fulfill my proposal, I have completely handed over our classroom Twitter account (
@2ndCougars
) to the students.
A daily "student tweeter" is picked from those who want to participate. They document learning moments throughout the day using the iPad mini. They tweet twice daily. All tweets get my final approval before going live.
Everything that is posted is their photos and words--mistakes and all! This is a great way to encourage student voice as well as document important learning.
Please consider supporting us by following, favoriting, retweeting, and maybe even replying! If you are not on Twitter, you can see our tweets towards the bottom of this webpage. Thank you!
How can I be extra prepared for
my child's first day?

Ready or not--it's almost here! The first day of school is Tuesday, September 6th. All classes will meet outside on the basketball courts at the south end of the school. Look for cones labeled with our room number: 203. I will come out at 8:30 to take students up to the classroom. Please do not come up to the classroom before school starts. Pick-up is at the main entrance at 3:30.

All students will need a media consent form on file for this school year. I am attaching the file below (both English & Spanish files are available). Please consider granting consent, as it allows students to interact with other classes via Twitter and share our learning on a global scale. Names are never used--only initials. It would be GREAT to share a first day picture!

Thank you for considering this opportunity. Your privacy is important to me. Any parents denying consent can be assured that their child's face will not be photographed.


What others are saying about @2ndCougars!
What do people think of 2nd graders sharing on Twitter? Follow
@2ndCougars
on Twitter to find out! We also received a shout-out on the Reflective Teaching Vlog run by
Christine Halliday
of Lancaster, Pennsylvania! The shout-out starts at the 10:14 mark.