Meet our student teacher!
Hello, My name is Ms. Jacoby and I am new to Mr. Carpenter's classroom! I am currently receiving a Master's degree in Education from DePaul University and will be licensed to teach Special Education and General Education. I will be student teaching for 8 weeks and am very excited to get to know your children!

A little bit about me:
I graduated from Illinois State University with a Bachelor's degree in English Studies. I enjoy reading and being outdoors. I currently am the captain of a semi-pro rugby team here in Chicago and have aspirations in playing on the National team. Before student teaching, I was a paraprofessional at Budlong Elementary School for 5 years. I truly enjoy working for CPS and am a huge advocate for public education. I feel very fortunate to have this opportunity to work alongside Mr. Carpenter in Room 203.


Green Week at Coonley!
This week is Green Week at Coonley! How do you help the earth? Feel free to let us know in the Flipgrid below!
Yearbooks
Maternity coverage
We are pleased to welcome Ms. Vera and Ms. Poyatos Domene as they fill in for the maternity leaves of both Ms. Glover and Ms. Manzo.
​Ms. Vera is teaching Art and Ms. Domene is teaching Spanish.
Flipgrid!
Flipgrid is a new app that we will be using to amplify our voices! It's pretty easy to participate on almost any device. Don't want to download the app? You can join from your desktop or laptop computer. Try it out! Just click on one of topics below:
February updates
Valentine's Day is this Wednesday. Students are welcome to bring cards or small gifts (pencils, stickers, etc) if they would like. We have 29 students. No candy or other treats are allowed.

Friday is Spirit Day! Students are encouraged to wear their Coonley gear. Crazy Hair Day has been postponed.

This is Kindness Week! Students are practicing acts of kindness each day. Yesterday we made Valentines for kids in local hospitals.
​Coonley is raising money for a buddy bench. Students are encouraged to bring money to donate to that cause.

Scholastic orders are due at the end of the day on February 18th. ​Click on the image below to order.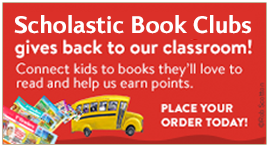 ​2nd grade performance
Dear 2nd Grade Parent(s)/Guardian(s),
We are very excited to invite you to our music/drama performance on Friday, January 26th at 9am in the gym. We will be presenting two shorts plays and songs from
The Gingerbread Man
and
The First Snowflakes of the Year
.
For this performance we ask the 2nd graders in rooms 203 and 205 (Color Group Music students) to wear a pair of blue jeans or comfortable pants with a blue or white shirt
.
Students in 201(Color Group Drama Students) and 207 are asked to wear comfortable pants (Jeans, Leggings) the rest of their costume has been provided for them and they will wear it on the day of the show.
We hope to see you
on Friday
! If you have any questions regarding the performance please email Ms. Metz (
mamelissa@cps.edu
) or Mr. Wrzesinski, (
jhwrzesinski@cps.edu
).
Where
: Coonley Gymnasium
When
:
Friday, January 26th, 2018 at
9:00 a.m.
Order of Performances:
1:
The Gingerbread Man 2: The First Snowflake of the Year * Please note that all students will be asked to follow their teacher to their classroom after the performance. Each classroom teacher will invite parents to come up to their classroom for a short 10 minutes to take a classroom photo or individual photos.
Thank you,
Ms. Metz and Mr. Wrzesinski
Engineering Fair
Engineering Fair - 12/1 @ 8:30 - 9:30
​Second grade will be holding our Engineering Fair on Friday, December 1 at 8:30. The Engineering Fair is an opportunity for you to complete challenges with your child using the Engineering Design Process. No preparation needed! Students will go up to the classroom as usual and meet up with parents in the multipurpose room in the morning. We hope to see you there!
Report Cards & more!
Report card pick up is Wednesday, November 15th. Please sign up for a time here: ​Report Card Pick up Q1
​Our field trip to see "Frog and Toad All Year" is Friday, November 10th. Please send $17 cash, or a check made out to Coonley School. Please turn in your signed permission slip and payment as soon as possible.
On the day of the play, students will eat lunch in the classroom. Please send a bagged lunch if possible. Contact our room reps if you are interested in being a chaperone and have completed the CPS volunteer process.
​Watch for the November homework calendar coming home on Wednesday. All homework will be sent in one packet.
Don't forget: Spelling words are given out every Monday for a test the following Monday. Please practice these words with your child.
#TBT idea: Does your child still have their Coonley kindergarten t-shirt? Does it still fit? Wear them THIS Thursday! (This is a completely optional activity)
Keep the Box Tops coming! We are currently in 3rd place! The holidays are a GREAT time to get Box Tops from relatives...

​THANKS!
1st Quarter Enrichment Classes
Here is the schedule of enrichment classes for the 1st quarter:
Monday: Drama & Spanish
Tuesday: Gym
Wednesday: Dance, Drama & Spanish
Thursday: Library
Friday: Art
Please wear gym shoes for Dance & Gym classes. Don't forget your library books on Thursday!
Room 203 - 2nd grade!
Welcome to our 2nd grade classroom website! We have an awesome year of learning ahead of us. I am excited for you to join me in what will be an incredible year. For more engaging and up-to-the-minute classroom happenings, follow our classroom on Twitter
@2ndCougars
.
​Get ready for a great year!
New year, more Twitter!
Two years ago, I was awarded a grant through Illinois Computing Educators for my proposal for using an iPad mini in the classroom. To fulfill my proposal, I have completely handed over our classroom Twitter account (
@2ndCougars
) to the students.
A daily "student tweeter" is picked from those who want to participate. They document learning moments throughout the day using the iPad mini. They tweet twice daily. All tweets get my final approval before going live.
Everything that is posted is their photos and words--mistakes and all! This is a great way to encourage student voice as well as document important learning.
Please consider supporting us by following, favoriting, retweeting, and maybe even replying! If you are not on Twitter, you can see our tweets towards the bottom of this webpage. Thank you!
How can I be extra prepared for my child's first day?

Ready or not--it's almost here! The first day of school is Tuesday, September 5th. All classes will meet outside on the basketball courts at the south end of the school. Look for cones labeled with our room number: 203. I will come out at 8:30 to take students up to the classroom. Please do not come up to the classroom before school starts. Pick-up is at the main entrance at 3:30.

All students will need a media consent form on file for this school year. I am attaching the file below (both English & Spanish files are available). Please consider granting consent, as it allows students to interact with other classes via Twitter and share our learning on a global scale. Names are never used--only initials. It would be GREAT to share a first day picture!

Thank you for considering this opportunity. Your privacy is important to me. Any parents denying consent can be assured that their child's face will not be photographed.


Open House
Open House will be September 19th from 6-7 pm. There will be two sessions: One starting at 6:00pm, and the other starting at 6:30pm. Tour the classroom and learn more information on curriculum and procedures for 2nd grade.
What others are saying about @2ndCougars!
Last year I had the idea to have students "live tweet" the Great Chicago Fire of 1871 to summarize their learning. WTTW (Chicago's PBS station) did a story on it. Read all about it below!
---
What do people think of 2nd graders sharing on Twitter? Follow
@2ndCougars
on Twitter to find out! We also received a shout-out on the Reflective Teaching Vlog run by
Christine Halliday
of Lancaster, Pennsylvania! The shout-out starts at the 10:14 mark.