Testing UPDATE
There has been a change to our testing schedule. Students will be taking the NWEA MAP test in Math on Thursday, June 6th. Once again, please try to get a good night's sleep and eat breakfast before coming to school. Thank you!
Testing
End-of-year testing season is upon us! Students will be taking the NWEA MAP test in Reading on Friday, May 17th. Please try to get a good night's sleep and eat breakfast before coming to school. The test will last approximately 60 minutes, but may take longer. The Math portion of the test will be taken on Friday, May 31st.

The Reading TRC test is ongoing through the month of May and early June. This test determines your child's reading level and is a big part of their grade in Reading.
Field Trip!
Our end-of-year trolley tour is May 29th. Please pay and sign the permission slip as soon as possible. If you use Epay, please provide your confirmation number. The permission slip is attached below.
Book Recommendations
Are you tired of Dog Man? Bad Guys? Captain Underpants? Well, here are my personal book recommendations for 2nd and 3rd graders. Click the links embedded in this post. Enjoy!
Does your child love Minecraft? Mine do. The Minecraft fiction that is out there is pretty poor, but the
Secrets of an Overworld Survivor
series is exciting, well-written, and 2nd-grade appropriate.
Count on
Junie B. Jones
for just the right amount of sass and life lessons. Kids love her!
If your child loves history, consider
Ancient Warriors
. This non-fiction text might be written at a slightly higher level, but is accessible with a parent's help. My own children love learning about these warriors and their weapons.
The students have been enjoying my new
Ready Freddy
books. These 2nd grade stories are lots of fun!
​Graphic novels are an easy choice for 2nd graders, but don't always have the best content. In the
Secret Coders
series, characters use coding and Math to solve problems!
I hope this has been a help. Happy reading!
March into new learning
The month of March is full of new learning! In Reading we are learning the difference between inferential and literal inferences. We are having a great time thinking deeply about stories! In Social Studies we are learning about the 1st star on the Chicago flag -- Fort Dearborn. Ask you child to tell you about it! Why was this tragedy included on our flag? In Science we are continuing talking about different types of animals. We are starting reptiles this week. Students are also completing partner research projects on an animal of their choice.
Scholastic book orders
Scholastic Book Clubs is a great way for you to stock your library AND help our classroom get free books! Remember: You can order any books that are on the website--simply do a search. Books are delivered within about a week or so, and they do not charge shipping.
The due date for our order is March 29th. The class code is H8K67. The link below will take you directly to their website. Thanks!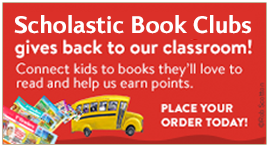 Enrichment schedule
Here is the schedule for enrichment classes for the third quarter:
Monday: Spanish & Drama
Tuesday: Spanish & Dance
Wednesday: Art
Thursday: Library & Drama
Friday: Gym
*Note: Please wear or bring gym shoes for Dance and Gym classes.
Connect with us
Please sign up for text or email reminders so I can keep you up-to-date on the latest happenings!
Sign up at
http://remind.com/join/2ndcou
or by texting
@2ndcou
to
81010
(standard text messaging rates apply).
I strongly encourage you to connect with the class on Twitter. Our 2nd grade story is told on this platform AND your child will be tweeting! Check us out at
@2ndCougars
.
New CPS policy
CPS now requires all parent volunteers to be registered as official volunteers through the CPS online online process. This means that all classroom helpers, field trip chaperones, and guest readers will all have to be registered as official CPS volunteers.
Click here
to register and learn more about the process.
Room 203 - 2nd grade!
Welcome to our 2nd grade classroom website! We have an awesome year of learning ahead of us. I am excited for you to join me in what will be an incredible year. For more engaging and up-to-the-minute classroom happenings, follow our classroom on Twitter
@2ndCougars
.
​Get ready for a great year!
New year, more Twitter!
Three years ago, I was awarded a grant through Illinois Computing Educators for my proposal for using an iPad mini in the classroom. To fulfill my proposal, I have completely handed over our classroom Twitter account (
@2ndCougars
) to the students. A daily "student tweeter" is picked from those who want to participate. They document learning moments throughout the day using the iPad mini. They tweet twice daily. All tweets get my final approval before going live. Everything that is posted is their photos and words--mistakes and all! This is a great way to encourage student voice as well as document important learning.
Please consider supporting us by following, favoriting, retweeting, and maybe even replying! If you are not on Twitter, you can see our tweets towards the bottom of this webpage. Thank you!
How can I be extra prepared for my child's first day?

Ready or not--it's almost here! The first day of school is Tuesday, September 4th. All classes will meet outside on the basketball courts at the south end of the school. Look for cones labeled with our room number: 203. I will come out at 8:30 to take students up to the classroom. Please do not come up to the classroom before school starts. Pick-up is at the main entrance at 3:30.

All students will need a media consent form on file for this school year. I am attaching the file below (both English & Spanish files are available). Please consider granting consent, as it allows students to interact with other classes via Twitter and share our learning on a global scale. Names are never used--only initials. It would be GREAT to share a first day picture!

Thank you for considering this opportunity. Your privacy is important to me. Any parents denying consent can be assured that their child's face will not be photographed.


What others are saying about @2ndCougars!
Last year I had the idea to have students "live tweet" the Great Chicago Fire of 1871 to summarize their learning. WTTW (Chicago's PBS station) did a story on it. Read all about it below!
---
What do people think of 2nd graders sharing on Twitter? Follow
@2ndCougars
on Twitter to find out! We also received a shout-out on the Reflective Teaching Vlog run by
Christine Halliday
of Lancaster, Pennsylvania! The shout-out starts at the 10:14 mark.