Open House
Open House is Thursday, September 19th. There will be two identical presentations beginning at 6:00 and 6:30pm. Open House ends at 7:00pm. Enrichment teachers will also be available.
Enrichment Schedule - Fall 2019
Here is our enrichment schedule for the 2019 Fall season:
Monday - Library & Drama
Tuesday - Technology & Gym
Wednesday - Technology & Art
Thursday - Spanish & Drama
Friday - Spanish & Gym
**Please send your child in gym shoes and comfortable clothing on days when we have Gym class. Also, please return Library books on Mondays.**

Room 203 - 2nd grade!
Welcome to our 2nd grade classroom website! We have an awesome year of learning ahead of us. I am excited for you to join me in what will be an incredible year. For more engaging and up-to-the-minute classroom happenings, follow our classroom on Twitter
@2ndCougars
.
​Get ready for a great year!
You can order books NOW!
​Scholastic Book Clubs is a great way for you to stock your library AND help our classroom get free books! Remember: You can order any books that are on the website--simply do a search. Books are delivered within about a week or so, and they do not charge shipping.
The due date for our order is September 28th.
The class code is H8K67. The red banner below will take you directly to their website. You can also
click here to access a digital copy
of the flyer. Thanks!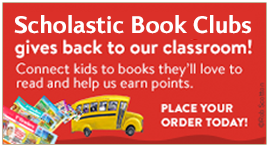 Connect with us
Please sign up for text or email reminders so I can keep you up-to-date on the latest happenings!
Sign up at
http://remind.com/join/2ndcou
or by texting
@2ndcou
to
81010
(standard text messaging rates apply).
I strongly encourage you to connect with the class on Twitter. Our 2nd grade story is told on this platform AND your child will be tweeting! Check us out at
@2ndCougars
.
New year, more Twitter!
Four years ago, I was awarded a grant through Illinois Computing Educators for my proposal for using an iPad mini in the classroom. To fulfill my proposal, I have completely handed over our classroom Twitter account (
@2ndCougars
) to the students. A daily "student tweeter" is picked from those who want to participate. They document learning moments throughout the day using the iPad mini. They tweet twice daily. All tweets get my final approval before going live. Everything that is posted is their photos and words--mistakes and all! This is a great way to encourage student voice as well as document important learning.
Please consider supporting us by following, favoriting, retweeting, and maybe even replying! If you are not on Twitter, you can see our tweets towards the top of this webpage. Thank you!
How can I be extra prepared for my child's first day?

Ready or not--it's almost here! The first day of school is Tuesday, September 3rd. All classes will meet outside on the basketball courts at the south end of the school. Look for cones labeled with our room number: 203. I will come out at 8:30 to take students up to the classroom. Please do not come up to the classroom before school starts. Pick-up is at the main entrance at 3:30.

All students will need a media consent form on file for this school year. I am attaching the file below (both English & Spanish files are available). Please consider granting consent, as it allows students to interact with other classes via Twitter and share our learning on a global scale. Names are never used--only initials. It would be GREAT to share a first day picture!

Thank you for considering this opportunity. Your privacy is important to me. Any parents denying consent can be assured that their child's face will not be photographed.


Newer CPS policy
CPS now requires all parent volunteers to be registered as official volunteers through the CPS online online process. This means that all classroom helpers, field trip chaperones, and guest readers will all have to be registered as official CPS volunteers.
Click here
to register and learn more about the process.
What others are saying about @2ndCougars!
Three years ago, I had the idea to have students "live tweet" the Great Chicago Fire of 1871 to summarize their learning. WTTW (Chicago's PBS station) did a story on it. Read all about it below!
---
What do people think of 2nd graders sharing on Twitter? Follow
@2ndCougars
on Twitter to find out! We also received a shout-out on the Reflective Teaching Vlog run by
Christine Halliday
of Lancaster, Pennsylvania! The shout-out starts at the 10:14 mark.