Scholastic book orders
Scholastic Book Clubs is a great way for you to stock your library AND help our classroom get free books! Remember: You can order any books that are on the website--simply do a search. Books are delivered within about a week or so, and they do not charge tax or shipping.
The due date for our order is February 24th. The class code is H8K67. The link below will take you directly to their website. Thanks!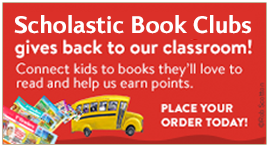 Valentines Day
Thursday is Valentines Day! Your child is welcome to bring valentines cards and/or items to share with the class. We will have a short activity time during the school day. There are 32 students in the class (20 boys & 12 girls). I ask that you do NOT address cards to individual students. Remember, no candy should be given out. Thanks!
February updates
It is great to be back at Coonley! Thank you for being so kind and welcoming as I return to the classroom. Your support is very meaningful to me and my family. Thanks!

Quarter two report cards will be distributed on Wednesday in black folders. Please sign and return.

February 15th is the 2nd grade performance. You are invited to join us at 9:00 in the multipurpose room. Your child should wear jeans (or blue pants) and a red shirt.

Friday the 15th is also the due date for Box Tops! Will this be Mr. Carpenter's 8th championship year? There will only be one more collection (at the end of the year).
​
We are beginning our Chicago History unit. We are studying early Chicago. Ask your child about the amazing explorer, Jean Baptiste DuSable! Look for an at-home history video project coming soon!

​We are continuing our animal unit in Science. We are talking about the different groups of animals and what similarities and differences they have. Students will continue having opportunities to research animals and explorers during independent literacy stations.
Report card pick-up
Wednesday, November 14th is report card pick-up day. Please sign up to meet with Mr. Carpenter by
clicking this link.
​Don't forget to stop by the book fair!
October updates
Halloween: Our Halloween celebration is on Wednesday the 31st. There is a scheduled party during the school day. Students are welcome to wear or bring their costumes. Please: no masks, weapons or fake blood. Your child is welcome to bring items to share, but it cannot be candy. Pencils, stickers and small toys are popular options.

Other items:
​Picture retakes are tomorrow (10/30).
Socks for Socktober are due the 31st.
Homework is due November 1st.
There is no school for students on Friday, November 2nd.
Enrichment schedule
Here is the schedule for enrichment classes for the first quarter:
Monday: Spanish & Drama
Tuesday: Spanish & Dance
Wednesday: Art
Thursday: Library & Drama
Friday: Gym
*Note: Please wear or bring gym shoes for Dance and Gym classes.
Upcoming dates
Please take note of these important dates:
Open House: Thursday, September 20th from 6:00 - 7:00pm in Room 203. Sessions will begin at 6:00 and 6:30pm.
Picture Day: 9/25
NWEA MAP testing: Second grade will be taking their MAP tests on Friday, September 21st and Wednesday, September 26th. This data will be used to determine students' instructional needs. Reports will be handed out at parent-teacher conferences.
New CPS policy
CPS now requires all parent volunteers to be registered as official volunteers through the CPS online online process. This means that all classroom helpers, field trip chaperones, and guest readers will all have to be registered as official CPS volunteers.
Click here
to register and learn more about the process.
Room 203 - 2nd grade!
Welcome to our 2nd grade classroom website! We have an awesome year of learning ahead of us. I am excited for you to join me in what will be an incredible year. For more engaging and up-to-the-minute classroom happenings, follow our classroom on Twitter
@2ndCougars
.
​Get ready for a great year!
New year, more Twitter!
Three years ago, I was awarded a grant through Illinois Computing Educators for my proposal for using an iPad mini in the classroom. To fulfill my proposal, I have completely handed over our classroom Twitter account (
@2ndCougars
) to the students.
A daily "student tweeter" is picked from those who want to participate. They document learning moments throughout the day using the iPad mini. They tweet twice daily. All tweets get my final approval before going live.
Everything that is posted is their photos and words--mistakes and all! This is a great way to encourage student voice as well as document important learning.
Please consider supporting us by following, favoriting, retweeting, and maybe even replying! If you are not on Twitter, you can see our tweets towards the bottom of this webpage. Thank you!
How can I be extra prepared for my child's first day?

Ready or not--it's almost here! The first day of school is Tuesday, September 4th. All classes will meet outside on the basketball courts at the south end of the school. Look for cones labeled with our room number: 203. I will come out at 8:30 to take students up to the classroom. Please do not come up to the classroom before school starts. Pick-up is at the main entrance at 3:30.

All students will need a media consent form on file for this school year. I am attaching the file below (both English & Spanish files are available). Please consider granting consent, as it allows students to interact with other classes via Twitter and share our learning on a global scale. Names are never used--only initials. It would be GREAT to share a first day picture!

Thank you for considering this opportunity. Your privacy is important to me. Any parents denying consent can be assured that their child's face will not be photographed.


What others are saying about @2ndCougars!
Last year I had the idea to have students "live tweet" the Great Chicago Fire of 1871 to summarize their learning. WTTW (Chicago's PBS station) did a story on it. Read all about it below!
---
What do people think of 2nd graders sharing on Twitter? Follow
@2ndCougars
on Twitter to find out! We also received a shout-out on the Reflective Teaching Vlog run by
Christine Halliday
of Lancaster, Pennsylvania! The shout-out starts at the 10:14 mark.